Description
The area corresponds to a grassy steppe of the ecological area of the Sub-Andean Grasslands of the province of Santa Cruz (South Patagonia). It occupies the eastern slopes of the Andes and high, cold plateaus. The dominant undulating reliefs are of glacial and fluvioglacial origin, although the area also includes volcanic plateaus, canyons and elevated blocks. The altitude is variable and fluctuates between 300 to 2000 m asl.
Total annual precipitation values are low with annual averages varying between 200 and 400 mm. The precipitation regime is uniform throughout the year. The average annual temperature is between 7 and 8 °C. The soils are generally sandy or sandy loam, with volcanic ash inputs in some areas.
The vegetation is dominated by grasses of the genus Festuca and Stipa, with bushes of neneo (Mulinum spinosum), mata mora (Senecio filaginoides) and calafate (Berberis microphylla).
Human intervention in the area is restricted to extensive grazing of sheep and to a lesser extent horses.
The installation of the site began in March 2014 and ended in June of the same year.
Summits
This site includes three summits: Santa Teresita Dos (STD, 800 masl), Santa Teresita Tres (STT, 800 masl), and Santa Teresita Cuatro (STC, 1080 masl).
Responsible Institution:
INTA Santa Cruz – Universidad Nacional de la Patagonia Austral – CONICET
Site coordinator: Pablo Luis Peri (peri.pablo@inta.gob.ar)
Database manager: María Vanessa Lencinas
Botanist/Taxonomist: María Vanessa Lencinas
Other researchers:  Juan Manuel Cellini, Lucas Monelos
Related resources:
Site richness: 66 species, 47 genera, 24 families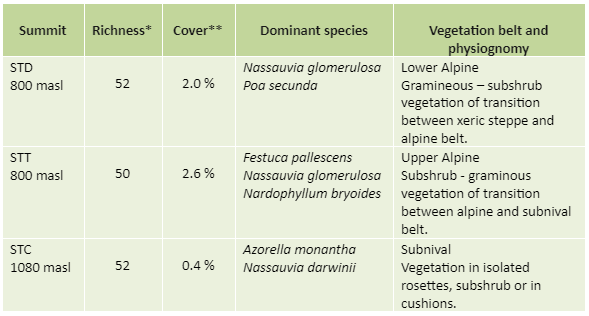 * Total number of vascular plant species (including all summit area sections)
** Mean total cover of vascular plants in the 16 1m2 plots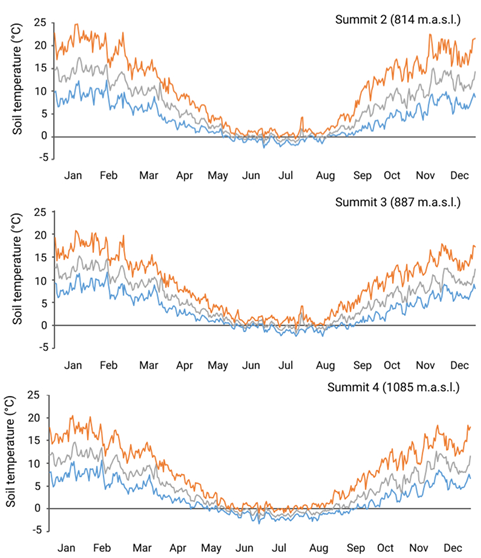 Soil temperature monthly values (-10 cm) mean, maximum and minimum of Santa Cruz, analyzed from temperature data loggers located in each summit as part of GLORIA methods.