CORDILLERA DE VILCANOTA – LAGUNA DE SIBINACOCHA (PE-SIB)
Description
This region is made up of numerous snow-capped mountains and glaciers of more than 6000 m in elevation. There is previous available evidence of the impact of climate change due to temperature increase, glacier retreat, and the consequent effects on biodiversity. At the landscape scale, glacial retreat is resulting in the opening of new land corridors influencing the migration of vegetation and fauna to higher elevations, including both native and exotic species.
The prospecting and installation of this pilot site began in July 2002, with Rititica being the first peak evaluated. However, due to logistical difficulties of access to this region, it was not until April 2012 that it was completed with the installation of all the summits.
Location
The site is located in the Cordillera Vilcanota, between the Laguna Sibinacocha (4900 m asl) and the glaciated zone, at approximately -13.761 LS, -71.082 LO.
Summits
Pumachunta (PUM, 4960 masl), Rititica (RIT, 5250 masl), Orqo Q'ocha (ORQ, 5320 masl), Yurak (YUR, 5498 masl).
 Responsible Institution: 
Collaborative work between several institutions.
Site coordinator: Karina Yager (karina.yager@gmail.com)
Database manager: Karina Yager
Botanist/Taxonomist: Rosa Isela Meneses
Site richness: 148 species, 64 genera, 24 families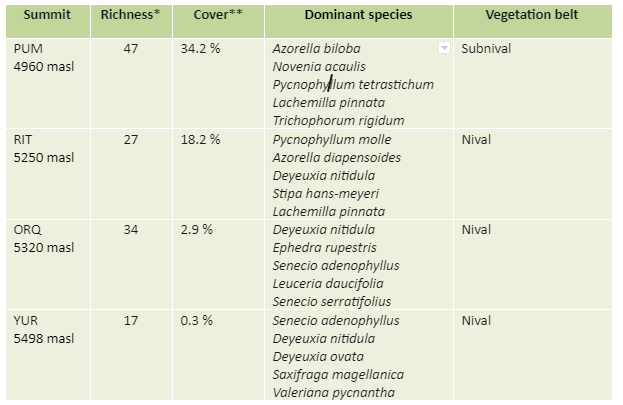 * Total number of vascular plant species (including all summit area sections)
** Mean total cover of vascular plants in the 16 1m2 plots