ÁREA NATURAL MANEJO INTEGRADO APOLOBAMBA (BO-APL)
Description
This region is part of the Eastern Cordillera of the Andes that originates northeast of Lake Titicaca, in the border between Peru and Bolivia. The area borders the endorheic basin of the Altiplano. At the foot of the mountains, at 4450 m, the average annual rainfall is approximately 480 mm, and the average annual temperature is 4.2 ºC. Freezing soil temperatures and daily freeze-thaw cycles are very frequent, exceeding 320 days each year. 
The region is dominated by Pleistocene sediments and Palaeozoic rocky outcrops. The glaciers are in a process of rapid reduction. The Moraroni monitoring summit is in fact one of the peaks with recent deglaciation.
The installation of the site began in December 2007 and ended in April 2008.
Location
The site is located in the Apolobamba Mountain Range within the Área Natural de Manejo Integrado Apolobamba, at approximately -15.025 LS and -69.199 LO.
Summits
Socondori (SOC, 4500 masl), Puntani (PUN, 4760 masl), Pelechuco Mita (MIT, 5050 masl), Moraroni (MOR, 5195 masl). 
Responsible Institution: 
Herbario Nacional de Bolivia (LPB)
Site coordinators: Stephan Beck (lpbstephan@gmail.com) y Rosa Isela Meneses, (rosaiselameneses11@gmail.com)
Botanist/Taxonomist: Rosa Isela Meneses
Site richness: 137 species, 63 genera, 26 families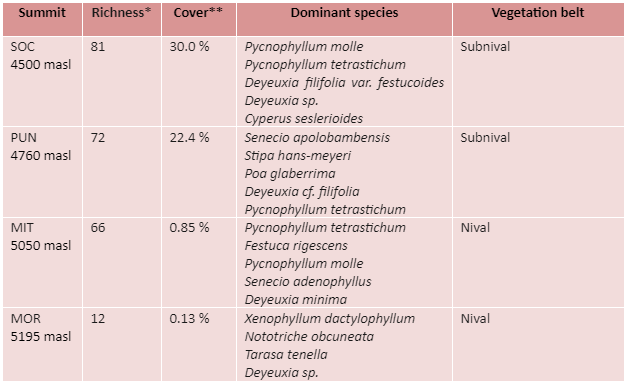 * Total number of vascular plant species (including all summit area sections)
** Mean total cover of vascular plants in the 16 1m2 plots
Endemic species: Jalcophila boliviensis, Senecio apolobambensis