PARQUE NACIONAL TUNI CONDORIRI (BO-TUC)
Description
Parque Nacional Tuni Condoriri was created on July 4, 1942. However, it is a protected area without management and is not part of SERNAP (National Service of Protected Areas). It is an important area for the provision of water for the cities of La Paz and El Alto.
This region of the Andes, is part of the Cordillera de La Paz or Real sensu stricto and the endorheic basin of the Altiplano. It has a landscape affected by intense processes of Quaternary and current glaciation. It presents an altitudinal variation from 4500 to 6200 meters above sea level.
The installation of this monitoring site began in January 2009 and concluded in 2010.
Location
It is located at approximately -16.230 LS and -68.258 LO. The installed summits are located around the Condoriri summit, 70 km away from the city of La Paz. Its highest peak reaches 5700 m. At the base is the Tuni Condoriri lagoon.
Summits
Waña Tuxu (WAT, 4650 masl), Condor Pusthaña (COP, 4862 masl), Paco Thojo (PAT, 5058 masl), Saltuni (SAL, 5325 masl).
Responsible Institution: 
Herbario Nacional de Bolivia (LPB)
Site coordinator: Stephan Beck (lpbstephan@gmail.com) y Rosa Isela Meneses (rosaiselameneses11@gmail.com)
Botanist/Taxonomis: Rosa Isela Meneses y Stephan Beck
Site richness: 99 species, 21 genera, 49 families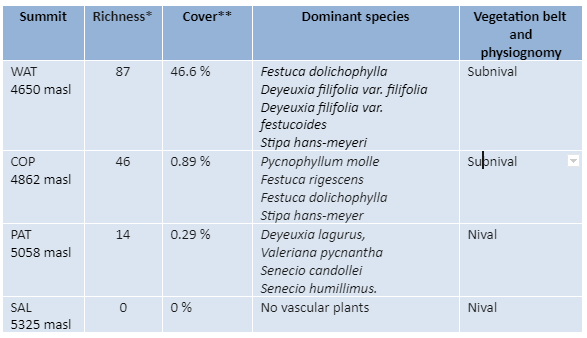 * Total number of vascular plant species (including all summit area sections)
** Mean total cover of vascular plants in the 16 1m2 plots

Soil temperature monthly values (-10 cm) mean, maximum and minimum of Parque Nacional Tuni Condoriri, analyzed from temperature data loggers located in each summit as part of GLORIA methods.